Schuylkill River Bulkhead Improvements
Philadelphia, PA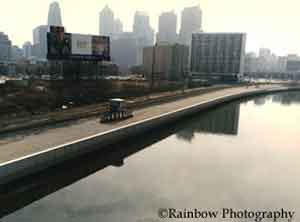 1450 lineal feet of precast concrete clad steel sheet pile bulkhead was constructed along the east bank of the Schuylkill River. The bulkhead, which spans from Walnut Street to Vine Street, was constructed as part of the Schuylkill River Park project. The new park's walkway is supported by the bulkhead and is accessible by stairs from many of the city's bridges. Work on the bulkhead consisted of installation of H-piles with rock pins and tiebacks, steel sheet pile and precast concrete facing. All piles were driven with a vibratory hammer. Most of the work on the bulkhead was performed from barges on the river. All of the work on this project was performed in a tidal zone.
Publications about the Schuylkill River Bulkhead Improvements:
Celebrating Schuylkill park...
Philadelphia Inquirer, 5/29/1997

"Practical experience and depth of expertise"