Naval Research and Development Facility
Philadelphia Naval Shipyard
Philadelphia, PA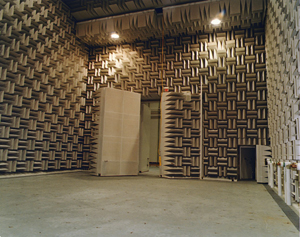 The principal facilities of the Machinery Systems R&D Center are housed in Building 87-- a 102,000 square foot three-bay brick building that was completely refurbished at a cost of $24 million. The east bay of the building houses laboratories for the research, integration, evaluation, and qualification of reduced-scale through full-scale naval propulsion and auxiliary systems and equipment. The center bay contains reduced-scale through full-scale laboratories supporting the research, development, and integration of advanced shipboard electric machinery, machinery control, and power distribution and solid state conversion technologies. The west bay is devoted to the research, development, integration, test and evaluation of machinery acoustic silencing systems and equipment. Included in this part of the building is a large scale machinery anechoic chamber which has a 3900 squre foot test area, a 50 foot high ceiling, and a fully isolated floor structure.
Adjacent to Building 87 is a new laboratory devoted to the research, testing, and evaluation of fuel cell power plants for naval surface and undersea applications. It consists of a 900 square foot hazardous-atmosphere rated chamber, with an adjacent assembly-checkout area and test control room. Another part of the Machinery Systems R&D Center is a 137,000 square foot engineering office building. It houses an auditorium, conference rooms, a library, and extensive laboratory areas for benchtop design, analysis, rapid simulation and prototyping.
Work on this project included the installation of over 700 auger cast piles to a depth of 100 feet in an existing building. Concrete work included pile caps, cast-in-place, and post-tensioned, structural precast concrete. Also included in the work on this project was demolition, site utilities installation, structural steel, roofing, interior finishes, laboratory equipment, HVAC and plumbing systems, fire protection, direct digital control system, electric transformers, switchgear and substations, and telecommunications systems.
Additional Photos of the Navy R & D Facility:
Click on an image below to view a larger version.

Publications about the Navy R & D Facility:
Navy is opening labs here...
Philadelphia Inquirer, 10/22/1999

"Practical experience and depth of expertise"